MLK Park Murder Arrest
06/06/2023
Press Release
June 6, 2023
Suspects in Custody for May 7th Murder at MLK Park
Detectives with the Pine Bluff Police Department made an arrest last night in connection with the May 7, 2023 murder at MLK Park in Pine Bluff. After identifying suspects in the murder, the detectives executed a search warrant on June 5, 2023, at a home on 34th Avenue in Pine Bluff. During the search, firearms were located, including a firearm that had been illegally converted to fully automatic. There were also two male suspects located in the house, and their names are:
Kuron Brown 23-years-old.
Will Rodgers 20-years-old.
Rodgers and Brown were both subsequently booked into the Jefferson County Jail. Rodgers was booked into jail for First Degree Murder, 5 counts of Battery 1st Degree, 5 counts of Terroristic Act, Carrying a prohibited weapon, and the Machine Gun Act. Brown was booked into the jail for Carrying a Prohibited Weapon and the Machine Gun Act.
Brown was arrested for the items found in his possession. He was not arrested in connection with the homicide. Photos of both arrestees can be located at the Jefferson County Jail's website.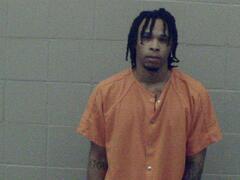 Kuron Brown
Will Rodgers
Lieutenant David De Foor
Public Information Officer